Gaming headsets are an essential accessory for serious gamers who want to fully immerse themselves in the gaming experience. With so many available options, it can be challenging to determine where to buy a gaming headset. In this article, we will explore the different options for purchasing gaming headsets, the cost, and whether or not gaming headphones are worth the investment.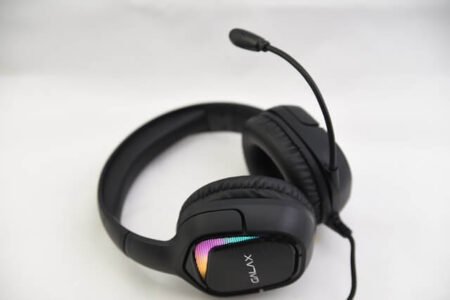 What to Look for in a Gaming Headset?
When it comes to choosing a gaming headset, there are several important factors to consider. Here are some key things of What to Look for in a Gaming Headset:
Sound Quality: The sound quality of a gaming headset is perhaps the most important factor to consider. Look for a headset that delivers clear, high-quality sound that allows you to fully immerse yourself in the game. Consider features like surround sound, noise cancellation, and equalizer settings, which can enhance the overall gaming experience.
Comfort: A comfortable gaming headset is essential for long gaming sessions. Look for a headset with adjustable headbands and soft, memory foam ear cushions that can provide a comfortable fit. Pay attention to the weight of the headset as well, as a heavy headset can become uncomfortable after extended use.
Microphone: Most gaming headsets come with a built-in microphone, which is essential for communicating with other players. Look for a microphone that delivers clear, high-quality sound and is easy to adjust or detach.
Compatibility: Make sure the gaming headset you choose is compatible with your gaming platform of choice. For example, some headsets may only be compatible with PC, while others work with consoles like PlayStation or Xbox.
Durability: A gaming headset is an investment, so you want to choose one that is built to last. Look for a headset with sturdy materials, like aluminum or steel, that can withstand heavy use. Check customer reviews for any comments on the durability of the headset.
Design: While the design of a gaming headset may not be as important as other factors, it can still be a consideration. Some gamers prefer a sleek, minimalist design, while others prefer a more aggressive, gaming-inspired look. Consider your personal style preferences when choosing a headset.
How Much Do Gaming Headsets Cost?
Gaming headsets range in price from less than $20 to over $500. The price typically depends on the quality of the headset, with higher-end headsets offering better sound quality, more features, and more comfortable designs. Mid-range headsets typically cost between $50 and $100 and are a good choice for most gamers.
Where to Buy Gaming Headset?
There are several options when it comes to purchasing a gaming headset. The most popular options are:
Online retailers: Online retailers such as Amazon offer a wide selection of gaming headsets. They often have the best prices and frequently offer free shipping.
Gaming specialty stores: Specialty stores like GameStop and Micro Center often have a selection of gaming headsets available for purchase. These stores may have knowledgeable staff who can assist you in selecting the right headset for your needs.
Big-box retailers: Retailers like Walmart and Target also offer a limited selection of gaming headsets.
Are Gaming Headphones Worth It?
Gaming headphones are worth the investment if you are a serious gamer. They offer several benefits, including:
Improved sound quality: Gaming headsets are designed with gaming in mind, and they often have features like surround sound, noise cancellation, and equalizer settings that can enhance the gaming experience.
Better communication: Most gaming headsets come with a built-in microphone, allowing for clear and easy communication with other players.
Comfortable design: Gaming headsets are often designed with comfort in mind, with features like memory foam ear cushions and adjustable headbands that can make long gaming sessions more comfortable.
Overall, if you are serious about gaming, investing in a good gaming headset is a wise decision. While they may cost more than traditional headphones, the benefits they offer make them well worth the investment.
Conclusion
In conclusion, a gaming headset is a critical accessory for any gamer. When asking What to Look for in a Gaming Headset, I always recommend to consider sound quality, comfort, microphone quality, compatibility, durability, and design. With these factors in mind, you can choose a headset that meets your needs and enhances your overall gaming experience.