A headset is very important for video conferencing. During the video conference, you have to remain focused and hear carefully to the caller's words. And headset helps you to remain focused.
However, if you have to spend money on other necessary things and don't have enough to buy an expensive headset. Don't worry there are many budget headsets that you can use for conference calls.
In this post, we have reviewed the best budget headset for video conferencing.
You can buy a headset from these for your video conferencing calls.
Best budget headset for video conferencing
| Headsets | Should you buy it? | Check Price |
| --- | --- | --- |
| Jabra Evolve 40MS | Editors Choice | At Amazon |
| Jabra Evolve 20UC | Best | At Amazon |
| Plantronics Blackwire C3220 | Best under budget | At Amazon |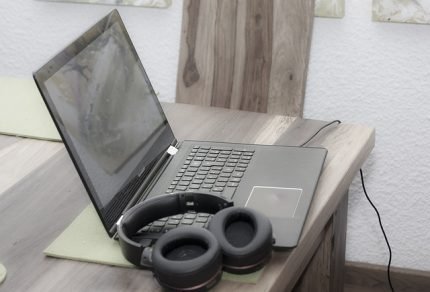 1. Jabra Evolve 40 MS Headset
Best for video conferencing
The sound quality of this headset is great you will be able to hear everything clearly.
This headset has a microphone that will pick up your voice and don't pick up any background noise.
By using this headset you will remain distraction-free. It means this headset eliminates background noise.
You will hear a little bit of sound in very noisy environments. However, good headset for video conferencing.
The headband and side microphone have a magnet you can attach the mic to the headband if you are not using it. The microphone has ribs in the middle, you can bend it and make sure the mic is closer to your mouth.
It is compatible with all devices and apps for online calls. You can connect through an audio jack and USB to any device.
The length of the cord is 7 feet. You can move around to take a cup of tea.
Buttons on this headset are tricky you have to look every time before pressing them. There is always the risk of pressing the wrong button. But overall great headset.
Should you buy it?
Jabra Evolve is a dual speaker wired headset. It is perfect for people who want to buy an affordable headset for video calls.
2. Jabra Evolve 20 UC Headset
Best overall
The sound and music quality are also the same and good as Jabra 40 MS. You can use these headphones for conference calls on laptops, Pc, and mobile phones.
The microphone of these headphones clearly picks a voice and removes background noise from it. That's why these headphones are really great for conference calls.
You can connect these headphones to any device via an audio jack.
However, it does not have a USB controller for transferring calls from PC to mobile phones.
Due to the absence of a USB controller, its cord length also decreases. Most of the time we take conference calls sitting near to PC or laptop. It means cord length is not a big issue.
The headband and earpads are made of soft foam. And they are light in weight due to that they are comfortable for hours.
Should you buy it?
Jabra Evolve is a wired headset for video conferencing. So, if you want to buy a good headset for video conferencing then go with it.
3. Plantronics Blackwire C3220 Headset
Affordable for video conferencing
It is an on-ear wired headset. Earpads are made with soft foam and the headband has leather on it.
That's why these are comfortable to use for many hours.
Its design is almost like other office headsets. It has a boom noise-canceling microphone. And the microphone is good your customers will hear your voice very clearly.
The inline controller helps you to take calls without touching the mouse. You can also increase and decrease volume by using an inline controller.
Earcups are very small due to which you will hear background noise.
We can say it will be difficult for you to focus in a noisy environment. However, a little bit of noise will be no big deal.
It has great audio, which means you can also use this headset for listening to music in your free time. 
Should you buy it?
If you want to buy an affordable headset for video conferencing then this is good for you.
4. COOSII P80C Headset
Coosii is a wireless headset and you can connect to 2 devices at the same time. You can use this headset by walking around in your house or office.
The wireless range of the headset is 50ft. Not only has a wireless connection but also has wired connections as well.
It has a dual microphone that makes your video conferencing good by removing background noise. You can adjust the microphone near to your mouth for delivering a better voice.
Boom dual microphones help you to deliver your words with clarity. The microphone is detachable you can remove the mic from the headset when you don't need it. 
Overall this headset design is good. And it is very comfortable to use for long video calls.
Earcups and headbands are made with soft memory foam that gives you comfort and noise canceling. 
Buttons are easy to press and help you to attend incoming/outgoing calls. You can control music volume with + and – buttons. 
Battery life is great that is 40 hours. And also quickly charge within 2 hours. 
You can connect this headset to zoom, skype, and other calling software.
5. JLab Go Work Headset
Jlab go work is a wired and wireless headset you can connect to PC and mobile phones. Via Bluetooth, you can connect this headset to a PC, Mac, and mobile.
And with a USB jack, you can connect to other devices.
For saving your time you can connect this headset to two devices simultaneously. It has dual microphones one for picking your voice and the other for removing noise.
However, we tested its mic which was not good. 
You can turn it on/off by a button on the earcup. And also control volume, attend calls by buttons present on the earcups.
A red light is located at the mic from that you can indicate whether the mute is on or off. 
This headset feels lightweight and comfortable but not more comfortable than Jabra Evolve 40. It put pressure on the ears which means for long calls it is not good. 
Battery life is pretty long that is 45 hours you can charge for one time and use it for 2 to 3 working days.
For fast charging USB C, type is also given to you.
Final Thoughts
Jabra Evolve 40 MS and Jabra Evolve 20 UC are the best Budget Headset for Video Conferencing. Plantronics Blackwire C3220 is also a good headset for conference calls. I hope you have selected the best headset for your conference calls.
Related Articles
Best earbuds for laptop conference calls
Best headphones for factory workers