When it comes to finding the best noise cancelling headphones on a budget, there are plenty of options available. Active Noise Cancelling (ANC) technology has come a long way in recent years, making it possible to enjoy a high-quality audio experience without breaking the bank. In this article, we'll take a look at some of the best low budget ANC headphones on the market.
The 5 Best Low Budget ANC Headphones on the Market
1. Skullcandy Indy ANC True Wireless In-Ear Earbuds
The Skullcandy Indy ANC True Wireless earbuds have a sturdy construction and provide excellent noise isolation. The active noise canceling feature is capable of blocking out distracting sounds such as bus and plane engines, as well as surrounding chatter. The earbuds have a bass-heavy sound signature which can deliver a strong and powerful audio experience, but may also cause the sound to become muddy, dark, or obscured. Users can choose from a range of EQ presets available in the Skullcandy app. The earbuds offer a continuous battery life of 5.1 hours, which may not be sufficient for a full day's use, but their portable charging case allows for easy recharging while on the move.
Pros
Great noise isolation
IPX4 for water resistance.
1 Year warranty
Good price
Cons
The Skullcandy Indy ANC earbuds are ideal for commuting and travel. Their compact design makes them easy to carry around, and their active noise canceling feature effectively blocks out bass-heavy background noise, such as that produced by bus and plane engines. The ANC also does an excellent job of eliminating the sound of nearby conversations. However, prolonged listening may not be comfortable, and their 5.1-hour battery life may not suffice for lengthy international flights.
2. Soundcore Anker Life Q20
The Anker Soundcore Life Q20 headphones are an enhanced version of the Anker SoundCore Life 2 Wireless headphones, with a few notable improvements. The previous model had a larger headband, which made it feel loose for people with smaller heads. The Q20 is slightly smaller and should fit most people more comfortably. The ANC feature has also been moderately improved, with better speech blocking and slightly better isolation of low-frequency engine noise, although it is still not the strongest feature. The V-shaped sound profile makes these headphones an excellent choice for pop or rock music enthusiasts. However, unlike the Life 2, the Q20 headphones come with a simpler carrying pouch instead of a sturdy hard case. On the positive side, the battery life has improved slightly, and the charging time has decreased significantly, which is a welcome upgrade.
Pros
Excellent battery life
Fine noise cancelling
Great sound quality
Good price
Cons
The Anker Soundcore Life Q20 headphones are suitable for use while commuting or traveling. They are comfortable to wear, and they come with a basic pouch that provides some light protection when they are stored in a bag. Although their ANC feature is effective at blocking out ambient noise, it is not very effective in eliminating the rumble of the engine. On the positive side, the headphones have a long battery life that can last even the longest travel days, and they can be used in passive mode if the battery runs out of charge.
3. JBL Tune 710BT Wireless Over-Ear
The JBL Tune 760NC headphones are designed for comfort and power, with an over-ear design that is extremely comfortable to wear. With active noise cancelling technology, the headphones can block out unwanted distractions and allow you to focus on what's important for up to 35 hours on a single charge. If you need more battery life, a quick 5-hour charge can give you an extra 2 hours of playtime. The headphones are lightweight and foldable, making them perfect for travel and adventure. They can also connect to two Bluetooth devices at once, so you can easily switch between your phone and tablet without missing a beat. With hands-free management of calls and your device's voice assistant, the JBL Tune 760NC offers a seamless user experience. For even more listening options, simply plug in the included detachable cable. Overall, the JBL Tune 760NC headphones are a great choice for anyone who wants a comfortable, powerful, and versatile listening experience.
Pros
Good audio reproduction
35H Battery Life
Multipoint Bluetooth connection
Lightweight 
Good price
Cons
Does not support sound equalization
The JBL Tune 710BT headphones are a wireless option that can be classified as an entry-level range. They offer excellent sound quality and long battery life. They are also comfortable to wear, with a foldable and lightweight design that is combined with 40mm dynamic drivers and a multipoint Bluetooth connection, making them versatile for everyday use, such as listening to music, podcasts, audiobooks, or watching videos. However, they do have some drawbacks that prevent them from receiving a higher rating, even within their price range. Therefore, it is necessary to carefully evaluate their features and determine whether they are suitable for individual needs.
4. INFURTURE H1 Active Noise Cancelling Headphones
The INFURTURE H1 wireless headphones offer impressive audio quality with deep bass and low latency, making them ideal for music and TV. They feature soft memory foam padding around the earcups, making them comfortable to wear for extended periods. The headphones are designed to be portable with foldable and rotatable earcups. The battery life is excellent, providing up to 40-45 hours of playtime, and they also have fast charging capabilities using the included USB-C charging cable. Additionally, with Bluetooth 5.0, the INFURTURE H1 supports multi-point connection for added convenience.
Pros
40H battery life
Good active noise-canceling
Lightweight and comfortable with soft memory foam
USB-C fast charging
Dual device connection
Cons
no soft memory foam padding under the headband
Overall, the INFURTURE H1 wireless ANC headphones have a standard design similar to other over-ear headphones. However, they are comfortable to wear for extended periods of time and provide good sound quality for their price. While they may not meet the standards of high-end audiophiles, they are a great option for general listeners seeking wireless over-ear headphones for music or TV watching.
5. TOZO NC9
The TOZO NC9 Truly Wireless earbuds have a sturdy construction and an exceptional active noise cancellation feature that can efficiently eliminate a wide range of background noises. These earbuds produce an enthusiastic, V-shaped sound signature that enhances the bass and treble while bringing out the clarity and brightness in vocals and lead instruments. However, the earbuds lack any customization options for modifying the audio output and only provide slightly over four hours of playback time on a single charge. The earbuds come with a portable charging case that can provide around three additional charges when you're traveling. The earbuds do not offer a dedicated ANC off option, but the 'Transparency Mode' feature lets you hear some ambient sounds around you.
Pros
Impressive noise isolation
Portable design
Great price
Cons
The TOZO NC9 headphones are suitable for commuting and traveling due to their active noise-canceling (ANC) feature, which is effective in blocking out low-frequency background noises such as the rumble of buses or planes and conversations around you. Their in-ear design is highly portable, and although their battery life is not very long, their portable charging case provides additional charges for use on the go.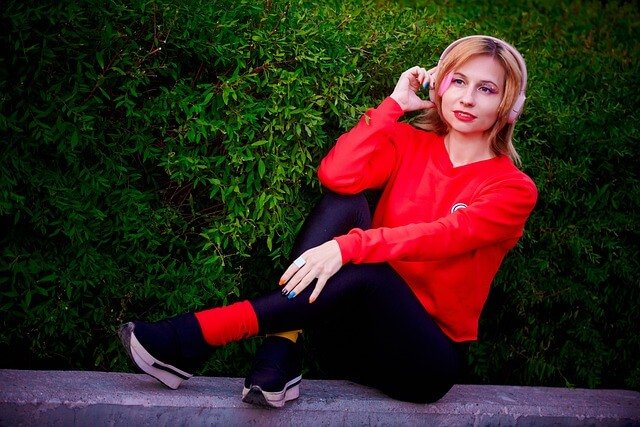 What is Noise Cancelling Headphone?
ANC headphones, also known as active noise cancelling headphones, are designed to block out external noise by producing an "anti-noise" sound wave that cancels out ambient sound. This technology uses microphones placed on the headphones to detect external noise and then generates a sound wave that is opposite in frequency and amplitude to cancel it out.
Benefits of ANC Headphones
One of the biggest benefits of ANC headphones is that they allow users to listen to audio content at lower volumes, as they block out external noise that would otherwise require higher volume levels. This can help prevent hearing damage and reduce fatigue when using headphones for extended periods of time.
ANC headphones are also great for use in noisy environments, such as during air travel, commuting, or working in a loud office. They can also improve the audio quality of phone calls and video conferences by reducing background noise.
Downsides to ANC Headphones
There are a few downsides to ANC headphones, however. They tend to be more expensive than traditional headphones, and the noise cancelling technology requires additional power, which can result in shorter battery life. Additionally, some people may experience discomfort or headaches if they wear ANC headphones for long periods of time.
FAQS
Are Noise Cancelling Headphones Safe?
Noise cancelling headphones are generally safe to use, as long as they are used responsibly. This means using them at a reasonable volume and taking breaks when necessary. 
Does ANC cause tinnitus?
In general, wearing headphones does not lead to tinnitus unless the volume is turned up too high. Similarly, the use of active noise cancelling (ANC) headphones does not cause tinnitus on its own.
Is it OK to sleep with ANC?
Wireless noise cancelling headphones, particularly Bluetooth earphones, do not have cords attached to them, making them safe to wear while sleeping without the risk of getting tangled up in wires.
Conclusion
In conclusion, there are plenty of options available in the market for low budget ANC headphones that can provide a decent level of noise cancellation and sound quality. It is important to consider factors such as comfort, battery life, and connectivity before making a purchase. Some of our top picks for the best low budget ANC headphones include the Skullcandy Indy, Soundcore Anker Life Q20, JBL Tune 710BT, INFURTURE H1 and the TOZO NC9. These headphones offer a great value for their price and can provide a decent ANC experience for those on a tight budget. Ultimately, with a little research and careful consideration, you can find the perfect pair of low budget ANC headphones that meet your needs and preferences.